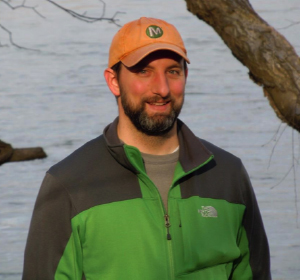 While he was a graduate student in chemistry at Princeton University, Donald Johnson was involved with a project focusing on the erosion of steel gun tubes, which was funded by the U.S Army Research Office. At the time, the governmental point of contact for the project was Betsy Rice, Ph.D., who coincidentally now serves as Johnson's current adviser for his position in the Energetic Materials Science Branch (EMSB) at the Army Research Laboratory (ARL) in Aberdeen, Md.
Johnson is a participant in the ORAU program for postdoctoral researchers. Scientists and engineers who have recently completed their doctoral degrees can apply for postdoctoral fellowships and research positions at national laboratories and various federal research facilities. ORAU administers a broad range of internships, scholarships, fellowships and research experiences across all academic levels.
After graduating from Princeton with his doctoral degree, Johnson obtained a postdoctoral position at the Pacific Northwest National Laboratory for two and a half years, where he worked on actinide geochemistry in the Environmental Molecular Sciences Laboratory. There he studied mineral surface chemistry and transport of radioactive elements, such as uranium, in groundwater.
He then decided to apply to the ORAU postdoctoral research program at ARL.
"I was very eager to continue my research career," said Johnson. "The research projects at ARL dealt with exciting new concepts, such as mechanochemistry, but were also still in my area of expertise, which is material sciences."  
Mechanochemistry is a wide field of science that studies how mechanical forces drive chemical reactions. Johnson's research focuses on basic principles while keeping the Army's applications in mind. His branch, EMSB, is concerned with development of future potential energetic materials, or products with a high amount of stored chemical energy that can be released.
"I'll work on various materials from nanodiamond to sugar. It might sound weird, but sugar is actually a good analogue for certain energetics," he explained. Common examples of these types of materials include explosives, propellants and fuels.
"In a typical day, I run density functional theory calculations on high performance computing clusters, analyze data and discuss the results with my colleagues," Johnson said. "Once we're fairly confident that the conclusions are new, exciting and accurate, we write up the results and publish internal tech reports or submit them to open literature."
The electronic structure calculations are important to understanding the material properties, chemical mechanisms and mechanical response. This basic research can then guide the creation of the new energetic compounds.
Johnson cited the biggest benefits of the postdoctoral research program as becoming more independent in his research and learning how to write research proposals. He also said he values expanding his skills in different programming software, especially the Python programming language.
As for his future endeavors, Johnson said he sees himself obtaining a permanent position at ARL or in the industry, managing a research group or running a small company. Whatever is next for Johnson, his experience with the ORAU postdoctoral program will stay with him.
"I've been very fortunate to be a part of this program," he said. "The people I work with are great, and I have been able to interact with so many respected scientists and engineers. It's been a rich learning experience so far, and I'm excited to see where the research is headed."