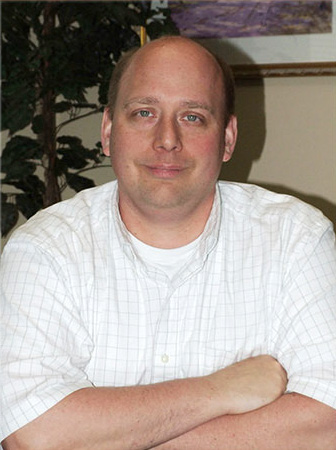 The U.S. Army, as well as other branches of the military, experienced significant losses due to engine failure caused by sand ingestion.
U.S. Army Research Laboratory postdoctoral research fellow and combat veteran Dr. Michael Walock is helping change the fate of aircraft and warfighters in these situations through his current work on ultrahigh-temperature materials for use in gas turbine engines.
Walock works in the Propulsion Division of ARL's Vehicle Technology Directorate at Aberdeen Proving Ground, Maryland.
He became interested in this field during his dissertation, when he worked on the development of hard coatings for protecting cutting tools.
"Many facets of my prior research are applicable to high-temperature materials," Walock said. "I have been working with thin films and coatings since 2006 and love the different aspects and functionalities that can be gained from understanding and controlling the microstructure."
Currently his main focus area is the development of sand-phobic coatings and other surface modifications for hot-section components within gas turbine engines.
"Small sand particles, less than approximately 100 micrometers, can easily get past our current particle separators and enter the combustor section of the engine," Walock said. "Here, they melt and impinge on hot-section components, such as the combustor liners, nozzles and turbine blades."
According to Walock, this leads to premature failure of these very expensive components, with a severe knock-down on the expected life of sand-exposed engines.
"A substantial number of engines returned from the field for overhaul are due to sand ingestion," Walock said.
Walock noted that if researchers can develop new component materials or coatings that are sand resistant, they can improve the operational energy of Army rotorcraft, reduce the logistical burden and potentially save lives.
This research falls under ARL's Materials Research and Sciences-for-Maneuver Campaign.
Near term, Walock said he is focused on accomplishing his research tasks, which include publishing his results, because "a robust record of accomplishments is absolutely necessary to become a research scientist at a government facility."
Walock said his team members and the equipment available to him at ARL are vital to the success of his research endeavors.
"My research team members have been great mentors and push me to do my best work," Walock said. "I am also a huge fan of the equipment availability at ARL. There are many experimental and computational tools which are not normally available to a university-based researcher."
When it comes to the inspiration behind the work he does, Walock said that it comes from his past military experience.
"As a combat veteran (Afghanistan), I have first-hand experience of the many problems that Soldiers face in the field, and second-hand experience of a whole slew of other problems," Walock said. "I take solace that my research could positively impact their lives and the success of their missions."
Before coming to ARL, Walock received a bachelor's degree in physics from Eastern Michigan University in 2001, a master's degree in physics from the University of Alabama in 2009 and a doctorate in physics from the University of Alabama at Birmingham in 2012.
While at UAB, Walock was the inaugural participant in a dual-degree program with Arts et Metiers ParisTech, meaning he also holds a doctorate in materials engineering from AMP.
As part of this program, Walock spent one and a half years living in the small town of Cluny, which is part of the Burgundy region of France.
Having an extensive and impressive academic history in a science, technology, engineering and mathematics field, Walock has great insight that he can share with members of younger generations who are interested in a STEM career.
"STEM fields are not easy," Walock said. "There will be plenty of opportunities to quit and move into some other fields. My advice is that if you love it, stick with it. Perseverance is key to success. There were plenty of times that I could have left physics behind to pursue fields that were easier, and where I could potentially make more money, but I love what I do. And now, I am a postdoc at the premier laboratory for land forces and work for the Soldiers in the best Army in the world."
Outside the lab, Walock enjoys spending time with his two small children.
"On weekends, we try to hit museums, zoos and the National Aquarium as often as possible," Walock said. "This summer, we have some fun trips planned to Michigan and Pennsylvania."