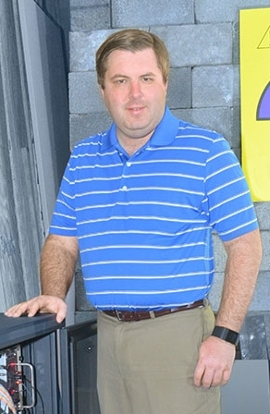 As grandmaster of science fiction Isaac Asimov said, "There is a single light of science, and to brighten it anywhere is to brighten it everywhere."
From an early age, Dr. Jarrod Marsh remembers always being interested in the field of science. Little did he know that years later this interest would become his career.
"I have always been interested in science from an early age," Marsh said. "It wasn't until I was in junior high that I realized physics was where I wanted to head. I started in astrophysics, but eventually switched to nuclear physics."
On the path to his current position as a postdoctoral fellow working in the U.S. Army Research Laboratory's Power Components Branch, Marsh received his bachelor's degree and master's degree in high-energy astrophysics from Louisiana State University in 2001 and 2007 respectively.
Marsh then went on to attend the nuclear-physics program at Mississippi State University, where he received a second master's degree in 2008 and a doctorate in 2013.
At ARL, Marsh is currently working on a Joint Improvised-Threat Defeat Agency project using nuclear reactions to detect hidden explosives.
"The ability to detect explosive threats at range is of great value to the warfighter," Marsh said. "The technology could conceivably be used to detect buried and vehicle-borne explosives, increasing the survivability of the warfighter and Army materiel."
What Marsh said he enjoys the most about his time at ARL is the ability the laboratory gives him to use his skills and training on problems applicable to the security of our nation and in support of our Soldiers, Sailors, Airmen and Marines.
When it comes to the inspiration behind the work he does each day, Marsh says it comes from our men and women in uniform.
"I have always had a heart for service to our country," Marsh said. "This appointment gives me the opportunity to use my talents and skills in a way that benefits our Soldiers. I always try to remember that the work I do has a potential impact far beyond simply developing the next piece of Army technology."
Coming from a Navy family also motivates Marsh and the research he conducts at the laboratory in support of those who protect our country and freedom.
Thinking long term, Marsh said that he would like to stay working in Department of Defense research and that remaining at ARL after his current postdoc appointment would be ideal.
If there is one piece of advice that Marsh could give to members of younger generations who are interested in a career in science, technology, engineering and mathematics, or STEM, it would be to expand their areas of study.
"Study a lot of different things," Marsh said. "Keep your options open as you progress through your education. There are a lot of interesting and exciting areas in the STEM fields, so if you find that one area does not fit, try another. The more subjects you are exposed to in your education, the better idea you will have about what you want to do when it comes time to make that decision."
Outside the lab, Marsh enjoys music, astronomy and amateur radio. He also dabbles in cooking, electronics and writing.