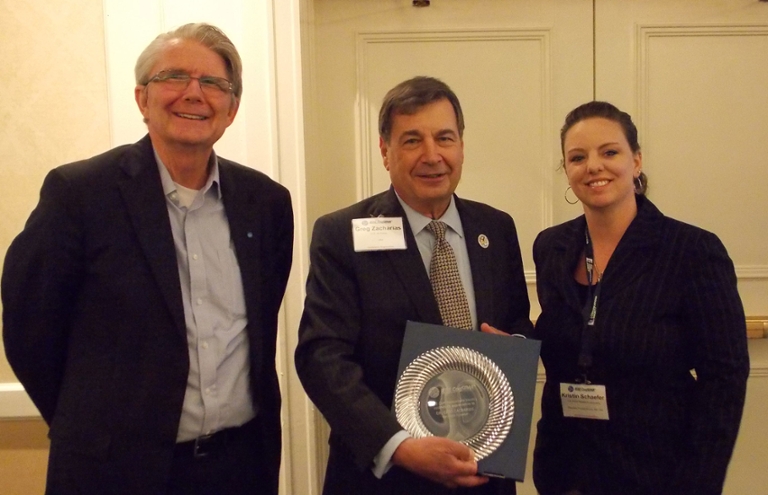 As a postdoctoral research fellow at the U.S. Army Research Laboratory, Dr. Kristin E. Schaefer-Lay has the opportunity to work with new, advanced technology and with individuals who truly care about the larger goal of supporting our Soldiers on the battlefield.
A native of Stewartstown, Pennsylvania, Schaefer-Lay received a bachelor's degree in psychology from Susquehanna University in 2003. She went on to obtain a master's degree and doctorate in modeling and simulation from the University of Central Florida in 2009 and 2013 respectively.
Before her time at ARL and early into her career, Schaefer-Lay worked with children with special needs. "During this time, I found that integrating technology had a number of benefits, including developing effective communication skills, improving social skills, collaborative teaming efforts and, of course, advancing knowledge," Schaefer-Lay said.
This led Schaefer-Lay to pursue her advanced degrees in modeling and simulation at UCF, with a focus on human–systems integration.
"During my time at UCF, I had opportunities to work with, develop and research a number of technology-based systems including multi-touch tables, tablet-based educational games, adaptive, intelligent training systems, adaptive vehicle-technology systems and robotic systems," Schaefer-Lay said. "Robotics is where I thrived."
From 2010 to 2013, Schaefer-Lay had the opportunity to work with ARL as part of the lab's Robotics Collaborative Technology Alliance, or RCTA.
As a graduate research assistant, Schaefer-Lay began studying the topic of trust in human–robot interaction under the direction of Dr. Peter A. Hancock from UCF. This research led to 12 publications, nine presentations and participation on two panels on the relationship between trust and situational awareness in robotics.
According to Schaefer-Lay, one key contribution of this work to the research community includes the development of the "Three Factor Model of Human–Robot Trust," which used meta-analysis to develop the foundation of human–robot trust.
"My graduate research working with the RCTA culminated with my dissertation, The Perception and Measurement of Human-Robot Trust, which developed a subjective scale specific to the unique needs of measuring human–robot trust," Schaefer-Lay said. "I was then accepted as an Oak Ridge Associated Universities, or ORAU, postdoctoral fellow at ARL to continue and further research on the topic area of trust in human–robot interaction under the direction of Dr. Susan G. Hill."
Schaefer-Lay works in ARL's Human Research and Engineering Directorate's Human and Intelligent Agent Integration Branch, where her research continues to support the RCTA by advancing computer-based simulation technology to examine the Army challenge of effective, interdependent teaming of Soldiers and robots early on in the research, design and development of autonomous robotic systems.
Among some of her greatest research accomplishments thus far, Schaefer-Lay, together with Ralph Brewer of ARL's Vehicle Technology Directorate and Eric Avery of HRED, has successfully updated the Robotic Interactive Visualization and Experimentation Toolbox, more commonly known as RIVET, computer-based simulation system that was originally developed in the RCTA, and the Control of Autonomous Robotic Vehicle Experiments, or CARVE, application to effectively assess human–robot interaction while interacting with prototype vehicles.
"The benefit of this work is the capability to assess human–robot interaction early on in the design process of real-world prototype systems, resulting in better designed systems for Soldier use," Schaefer-Lay said. "My specific research has used this simulation system to study user trust, reliance and usability of an autonomous driverless vehicle for Soldier transit for on-base operations."
Schaefer-Lay said this work uses the U.S. Army Tank Automotive Research Development and Engineering Center Applied Robotics for Installations and Base Operations project as the motivating scenario.
"Through collaborations with Dr. Edward R. Straub of TARDEC, my work has a transition element to the design of the ARIBO driverless prototype vehicle, Fort Bragg, Warrior Transition Battalion application," Schaefer-Lay said. "We are now preparing to begin joint ARL/TARDEC data-collection efforts to assess Soldier trust and expectations of the real-world vehicle."
Schaefer-Lay noted that her everyday inspiration at ARL comes from the opportunity she has to work with an amazing team and mentors who span directorates and organizations, whose support allows her research to have an impact on our Soldiers and the larger research community.
Outside the lab, Schaefer-Lay volunteers as a mentor for a high-school For Inspiration and Recognition of Science and Technology, more commonly known as FIRST, robotics team located at Aberdeen Proving Ground, Maryland. She also enjoys spending time with her husband and their families; and, now that spring has arrived, they are looking forward to sailing, boating and motorcycle riding.
If there is one piece of advice that Schaefer-Lay could offer to members of younger generations who are interested in a career in science, technology, engineering and mathematics, or STEM, it would be that "it takes a team of people to design and research new technology, from artists, to engineers, to psychologists and more. Find out what you enjoy and make a career out of it. Also, take a computer-programming course."