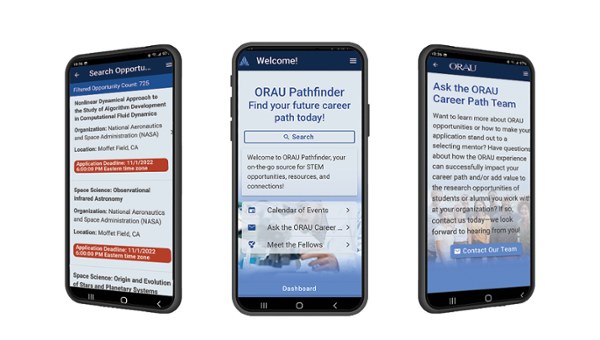 ORAU unveiled its all-new ORAU Pathfinder app, providing a wide range of resources on the go. This app offers college students, recent graduates and postdoctoral students a mobile tool to search and apply for hundreds of science, technology, engineering and math internships, fellowships and research opportunities at facilities across the U.S., such as NASA and the Army Research Laboratory.
The ORAU Pathfinder app also provides a platform to remain engaged, connected and informed during the ORAU experience—from application, to offer, through the appointment and even as an ORAU alum. 
"We created the ORAU Pathfinder app with our current and future research participants in mind," said ORAU Director of Research Programs J. Scott Miller, Ph.D. "We wanted to provide a platform for ORAU interns, fellows and others to connect and be able to stay connected to ORAU on their mobile devices."
The ORAU Pathfinder mobile app helps those interested stay engaged, connected and informed during their experience at ORAU and beyond, and the app can be used to search and apply for opportunities, learn about exclusive ORAU events, manage applications, accept offers, access a variety of STEM career resources and more!
Learn more about the ORAU Pathfinder app for more information and links to download the app to your mobile device.