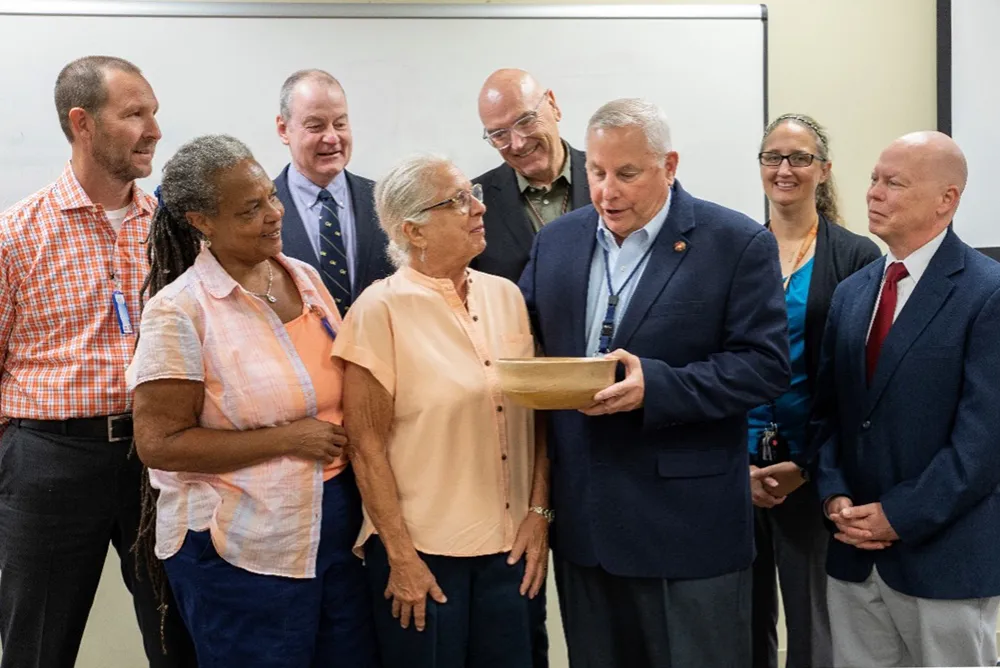 ORAU employees working on the NIOSH Dose Reconstruction Project gathered Wednesday to receive a handmade wooden bowl in return for donating a combined $9,000 in support of Bowls for Food.
Bowls for Food is a charitable project founded by woodworker Michael Mittelman. Mittelman recognized the prevalence of food insecurity during the COVID-19 pandemic and decided to donate wood-turned bowls to those who make charitable donations to any service which combats food insecurity.
The NIOSH Project's involvement with Bowls for Food was championed by NIOSH Project Director Kate Kimpan. Kimpan donated $3,000 to her local food bank, which was matched by ORAU as the prime contractor for the NIOSH Project. The MJW Corporation, which works closely with the NIOSH Project, also donated $3,000, resulting in a combined $9,000 donated to food-based charities across the country.
"We not only do good work," Kimpan said, "but we're a group of people who care about doing good. I don't even know how you ask people to dig deeper, and you all did it."
Kimpan presented the wood turned bowl to ORAU President and CEO Andy Page on behalf of Mittelman.
"This is a great work of art," Page said as he accepted the gift. "We're going to treasure it, honor it and think of all the employees and all the good we've done with this project. It all comes around, looking at something like this."